Announcing this years Spring Meet.
We have been invited back to the Celebration of Cars in Melbourne and after last years success, have decided to make it our Spring Meet again this year.
So please mark your calendars for Saturday, March 3, 2018, 10 a.m. to 3 p.m. Held at the Muscle Car Museum located at 3500 Sarno Road, Melbourne, FL.  Enter at the Club 52 Greyhound Park Entrance.
Event will feature free entry to Front Show Room of the Muscle Car Museum, Food Vendors, Swap Meet, Kids Zone and Car Awards.  It is a rain or shine event.
Last year there were around 300 cars there and other clubs including the British Car Club and a couple of Corvette Clubs. So please join us and help make it a great Volvo turnout!
Pre-registration and $20.00 entry fee required by February 18. A Fire Extinguisher Is Required. 
You can also visit www.antiqueautoclubcc.com for more event info.  Please print out the attached Registration form and mail it in with your check to AACCC.
It would be great if you could also RSVP to Tricia at orchidtriciarose@gmail.com
FLVCOA or VSA Membership NOT required. All Volvo enthusiasts welcome.

Hope to see you there.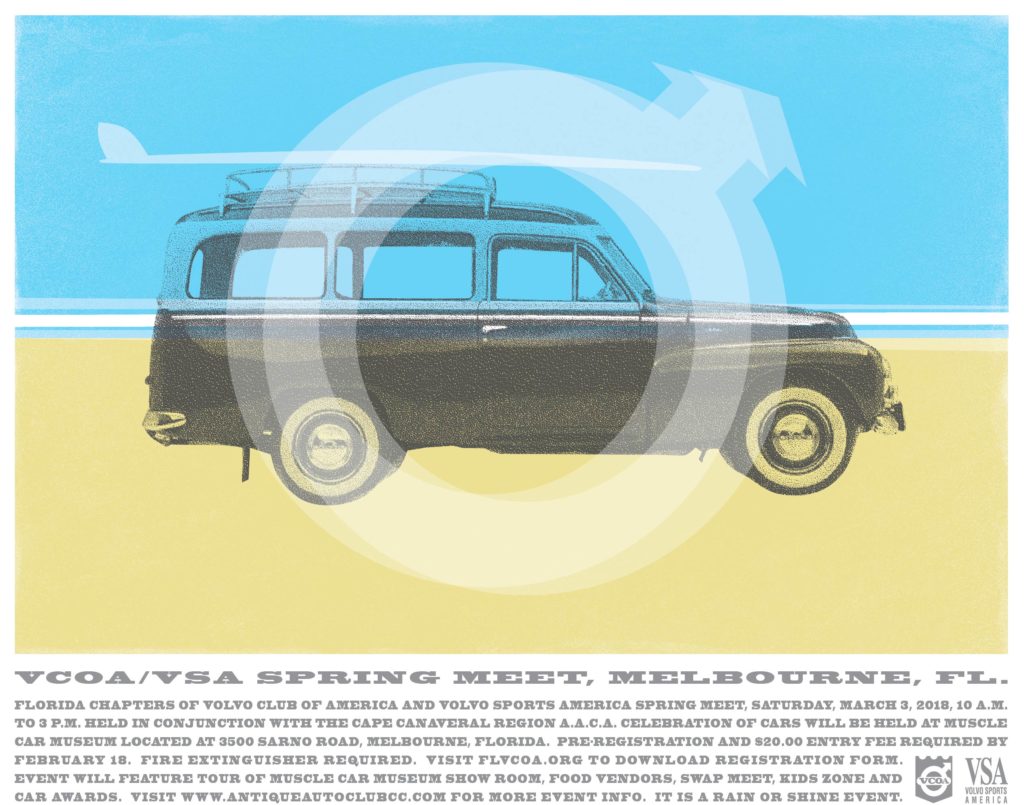 Artwork by Chris G Smith