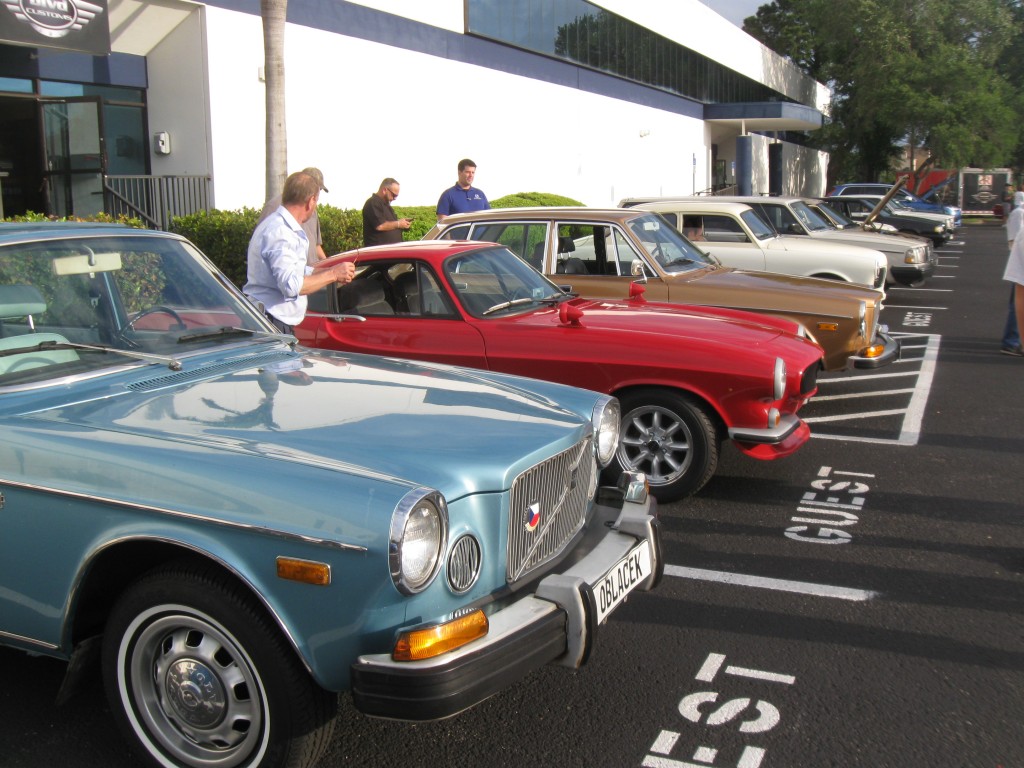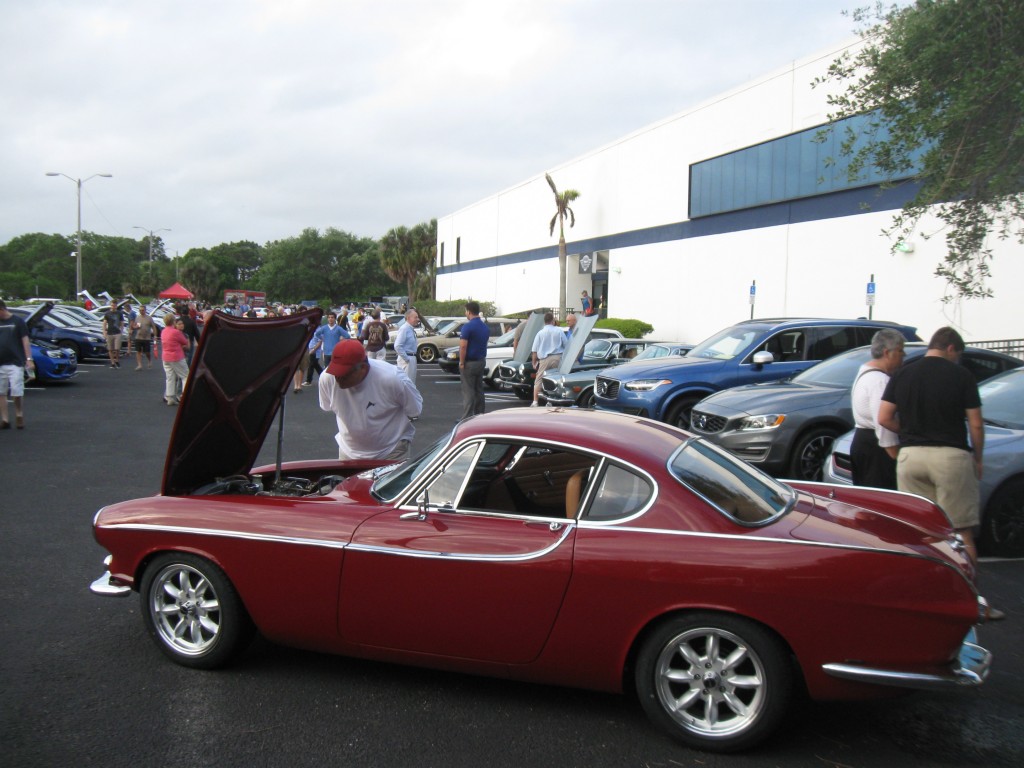 Warm and clear weather greeted Members of the Florida Chapters of VCOA and VSA as we rose before the crack of dawn to participate in the first stage of our spring meet. We started the morning by attending Cars & Coffee hosted by the duPont Registry in St. Petersburg. It was a truly amazing feat to see over one hundred cars of such a wide variety arrive so early in the morning with such precision timing! The parking area surrounding the duPont Registry was full by 6:30 a.m. with cars spilling over into the Bic parking lot next door. The variety of cars included a host of exotics (Lamborghinis, Ferraris, Mercedes Benzes, Porsches, BMWs), muscle cars, Corvettes, hot rod trucks, European and Asian imports, a Holden imported from Australia, motorcycles and even a trio of hearses!
Our Volvo contingent numbered 17 cars containing two 1800ES, three 1800 coupes (both stock and modified-one driven by Dave and Joan Bodden all the way from Charlotte, NC), a modified 132, two 164s, several 240 wagons and sedans (one being a V8 conversion), two modified 700 series wagons, an XC90 and a Polestar XC90 (brought by Colin McGinn of Volvo of Clearwater), a beautifully maintained 850 sedan and a T5R model. We were pleasantly surprised at the attention the Volvo group garnered among the attendees considering the number of "other than Volvo" marques on hand. Our little display table of club membership applications and back issues of Rolling and VSA Magazine was a hit, especially with the kids who stopped by to raid the candy bowl.
We had free reign of the showroom and lounge areas where we viewed the duPont's car and memorabilia collections. Even some of the furniture was car related with one barstool and table set sporting brake rotors and shock absorbers. Inglis Leslie and his crew at the duPont were wonderful partners to work with. They did a fantastic job staging all the cars and making everyone feel welcome. What splendid hosts! We thank them for allowing our group to participate in this monthly event.
Directly following Cars & Coffee many of us made our way to the local Cracker Barrel restaurant for a quick breakfast before departing for our next stop on the event agenda, the Tampa Bay Auto Museum (TBAM).
One need only espy the metal dragon art sculptures displayed in the front of the museum to know that we were in for a real treat! How many can say they have seen a dragon trying to ride a unicycle with a little help from his friends?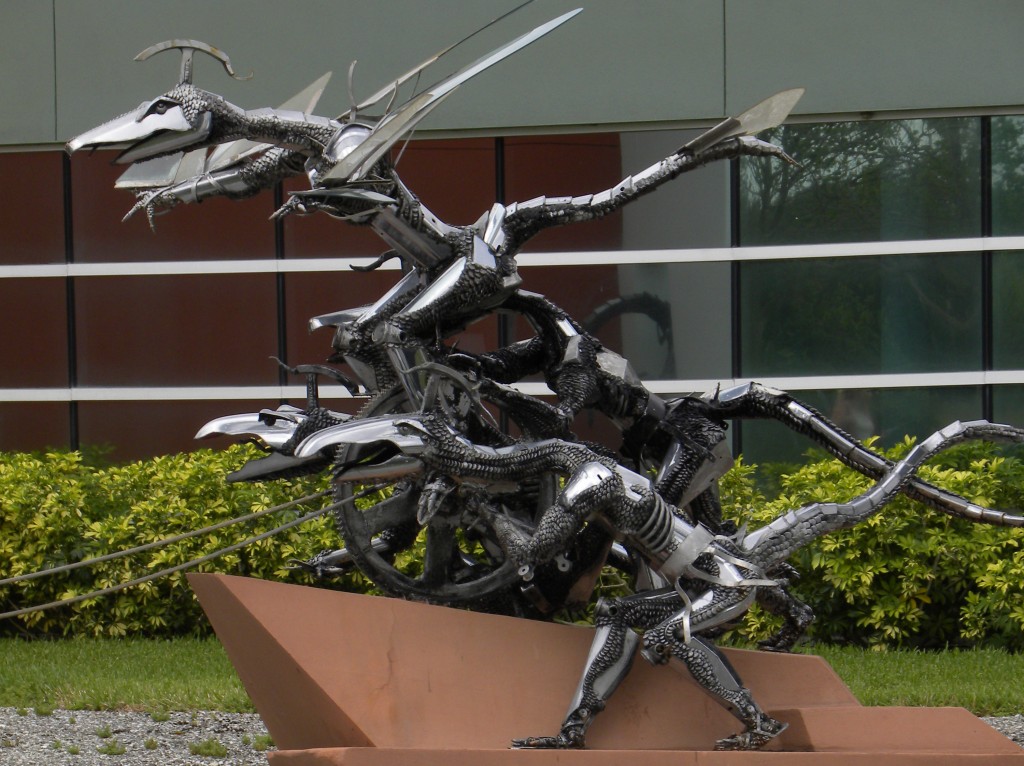 The TBAM is a unique museum housing the Cerf family collection of technologically innovative vehicles. Mr. Olivier Cerf was personally on hand to welcome us to the museum; he even made his way out to the parking lot as we arrived to view our cars. He and his team, John Perodeau and Gary LaSasso, made the visit a most educational experience as they have a vast knowledge of the technology and history of the vehicles in the collection.
Highlights included a reproduction of a 1770 Fardier (French for Lorry) built by Nicolas Joseph Cugnot and Michel Brezin for King Louis XV. The Fardier was the world's first self-propelled vehicle, is steam powered, has a large brake and independent steering. The wood for its construction was sourced from France using the same type of lumber as the original, and the copper boiler was built in the Cerf family workshop to today's safety standards. The vehicle was designed to carry artillery into the field and this Fardier boasts a rearward facing cannon (great for deterring tailgaters). We were told that the vehicle does not make appearances at car shows unless permission is given to allow it to be driven around at the show.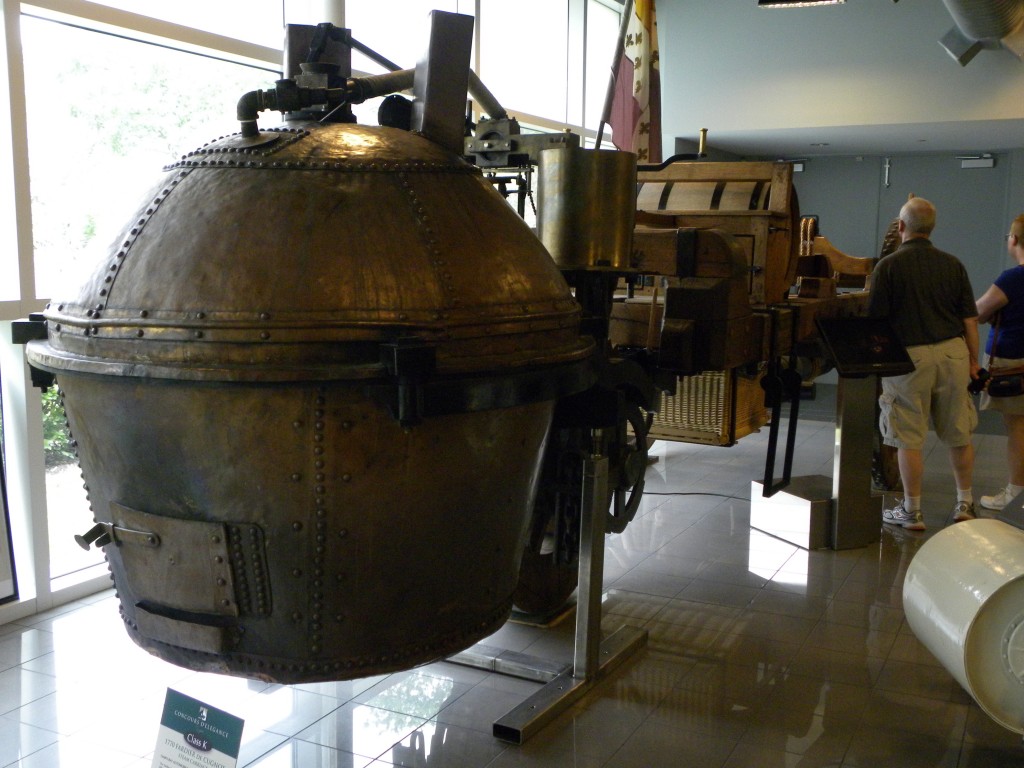 Another technological delight was the 1925 prototype Gerin Aerodyne, the brainchild of Jacques Gerin. It is a mid-engine car with a curvy and sleek subframe made of super elliptical duralumin with hoops and ribs mated to a structural Alpax floor. It is unique in that the front wheels and suspension are fully enclosed units. There was just so much to see in the museum that it is hard to capture the essence of this truly unique display of automobiles into words.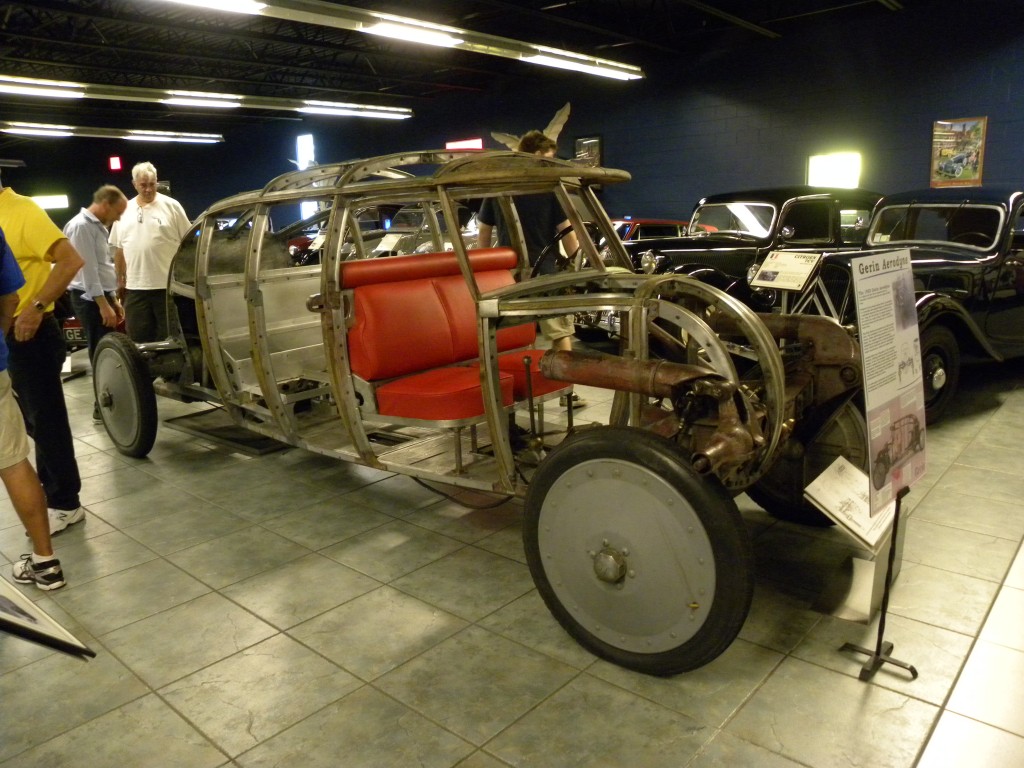 To see more of the collection you are encouraged to visit www.tbauto.org and click on "collection". We thank the TBAM for being most gracious hosts and stewards of such a fine collection. We wish them much luck in their search for the five cars they are seeking to round out the collection.
After exiting the museum we were two caravans off in two different directions to reach the same destination…Bahama Breeze restaurant located in the Rocky Point section of Tampa. One group led by Jim Swetland in his T5R took the slower scenic route through St. Pete using the Courtney Campbell causeway to reach Rocky Point, while the fast group followed Clive and Jeannine Dowdell in their 244GL via I275 and the "cranking" Howard Franklin Bridge.
We sincerely thank our host and fellow Volvo Club Member, Jose Laboy, and Bahama Breeze for providing us a tented and shady seating area to enjoy a gratis, delicious lunch of paella, burgers, chicken breast, portabella mushroom and Cuban sandwiches with all the fixings sided with fries, chips, water and soft drinks. The Parking lot looked Swedish festive with the blue and yellow finger banners fluttering in the breeze blowing in off of the bay. We presented Jose with a Volvo 164 hubcap "clock" painted the same color gold as his beautiful 1973 164.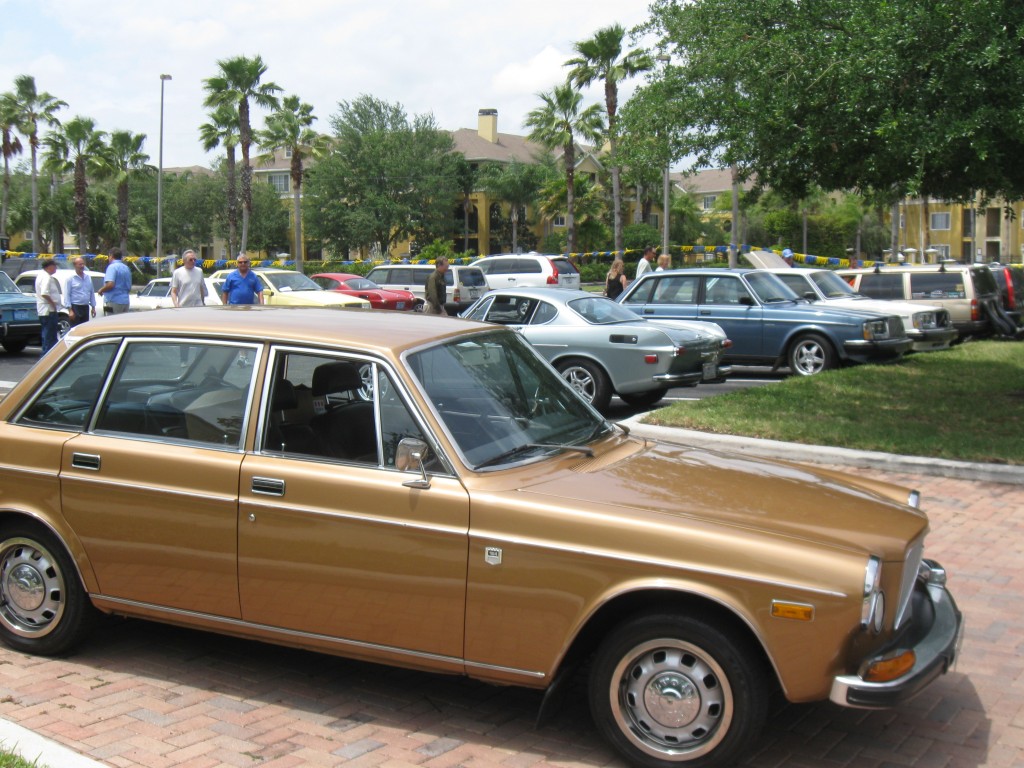 We extend a hearty thank you to VCOA Members Ralph Porzio (we missed you Ralph) our Flyer designer, CliveAlive, our website/blog master and email blaster, Tricia Rose, our Event Coordinator, and John Martin, our VSA partner in Florida Volvo meet planning. We also thank all the Members of both Volvo clubs and the Florida Volvo Community on-line forum who came out to enjoy a day of "all things cars". We look forward to getting together in the fall, quite possibly at the Ocala Air Ranch in October. Until then, keep em' rollin'.
By: Tricia Rose, Event Coordinator
More Meet Photo's can be found here for Tricia's and here for Clive's.