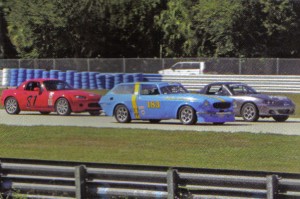 Bill Rose, Team ACN Volvo Sports, competed in the final weekend, October 16-17, of the Central Florida Region Sports Car Club of America's (CFR SCCA)  2010 race season at the 1.7 mile Sebring Club Road Course in his 1973 1800ES in the FP class.
Despite a broken left rear shock, Bill qualified on the inside pole next to a 2004 Mazda MX5 driven by Chris Marchand, competing in the STU class, with a time of 1:21.333, just 0:37 s off the overall group pole position in a field 37 cars strong. In SCCA several classes race at the same time.
During Saturday's 30 minute race, the Volvo served as the meat in a Mazda sandwich, starting between Marchand's MX5 and Earl Clement's 2007 Mazda MX5 (SSB class), followed by David Smith's 1998 Mazda RX7  (EP class). Bill got a great start and maintained his first place FP position and second place group position. By lap three, he was able to make the pass on Marchand exiting the Esses to gain the overall lead. Halfway through lap 22, Smith passed the Volvo in the Hair Pin turn. Bill and Smith swapped position several times throughout the remainder of the race, with Smith edging out the group win.
Sunday morning, Bill again started on the inside pole. The start was similar to the day before, but Bill was not able to make the pass on Marchand this time. With half the race to go, Smith was able to pass both Bill and Marchand to take the group and EP win, with Marchand and Bill taking the wins in STU and FP, respectively.
The race weekend was the finale in the CFR SCCA Regional Points Championship for 2010. With 13 teams competing in the region in the FP class, Bill Rose finished in second place for the season, with three wins and one second place. Co-driver Tricia Rose took two wins, one second place, and one third place placing fourth overall. The team was DNF-free for the season. Together, the two drivers had a points total of 85.
Perry Young in a 1990 Mazda Miata Roadster won the championship with 62 points, followed by Bill Rose 45 points, Jeffrey Stein in third place with 42 points in his 1978 Scirocco, and Tricia Rose in fourth place with 40 points.
Team ACN Volvo Sports would like to thank their sponsors and crew.
Sponsors: Auto Clinic of Naples, Inc., Steve & Judy Alander of Generation Gap, "Smitty" (Tricia's Dad and Mom, Francis and Erika Smith), Dolly's Produce Patch, and Hoosier Tire Distributor Appalachian Racing Tires.
Crew and fans: Rodney & Sue Dykes, Carey Adkinson, Justin Schere, Dennis & Susie Joyce, and Darren Gunn.
Article provided by Tricia Rose, ACN Volvo Sports, Auto Clinic of Naples