FLVCOA

usually has a Spring and Fall meet where members bring their cars to show and everyone gets a chance to admire those on display.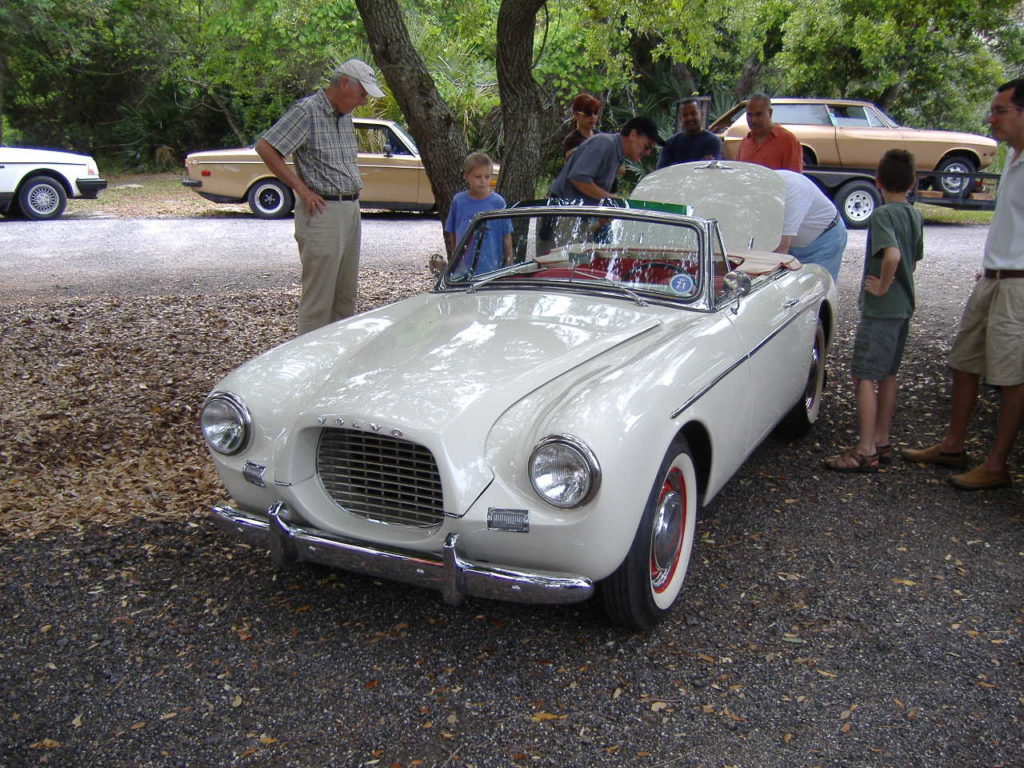 Attendees can vote on their favorite car and awards are given for Peoples Choice and other categories. There is usually also a 50/50 drawing and a drawing for door prizes that any Volvo owner will enjoy.
Meets have been held at members homes like Leeward Air Ranch and beautiful parks like Mt Dora, Ponce Inlet and Philippe Park. Additionally, meets have been sponsored by businesses such as Auto Clinic of Naples, Central Florida Eurocars in Lakeland, Coast Volvo in Sarasota and DeVoe Volvo in Bonita Springs.
They
are usually open to all Volvo enthusiasts – anyone is welcome to attend with their Volvo. Check back for updates.
FLVCOA History
For over 30 years the Volvo Club of America – VCOA, has provided Volvo owners the opportunity to attend events and meets, a subscription to the outstanding club magazine Rolling, local chapters, discounts on parts and service from a large network of associated Dealers and Independent Service Organizations and much more.
The Florida Chapter of VCOA was formed in 1994 after Dave Montgomery and Louis Bouchelle attended a car show in Leesburg Virginia. Surprisingly for them, they met up with a few other Volvo aficionados there, including Charlie Pardee and Chris Short, who had been having Volvo meets around the center part of Florida. Dave realized that with other people interested in Volvo's, a club was needed. Chris and Charlie had a meet in DeLeon Springs and they got 10 members of VCOA to sign us up as a chapter.
So Dave became Coordinator of the Florida Chapter of Volvo Club of America. With the help of Chris Short and many others, we have been able to have meets all over Florida for the past 23 years.
SW Chapter FLVCOA History
By:  Tricia Rose, Chapter Coordinator, SW FL VCOA
The journey to the formation of the Southwest Florida Chapter of the Volvo Club of America in 1995 had its beginnings in 1994.  Eli Swetland, a VCOA member and client of our Volvo repair shop, gave us back issues of Rolling magazine. 
In the 1994 Volume 12, No. 5 September/October issue of Rolling was an event report written by Dave Montgomery, the President of the newly established Florida Chapter of VCOA.  He noted that the next event was to be held in Brooksville, Florida, in September or October.  We contacted Dave to get the details and put the date on our calendar.   We applied for membership in VCOA in August of 1994 and eagerly awaited the receipt of Rolling magazine.  
We were in the process of putting the finishing touches on the restoration of Bill's 1973 1800ES and decided it would be fun to make the trip to see what VCOA was all about.  When we arrived the day of the event at Tom and Kathy Garth's home, we were pleasantly surprised to see 1800s, 122s, and late model Volvos.  The people were very friendly, the event was fun and we were hooked.
Fast forward to 1995; with a couple of years of FLVCOA meets (Brooksville #2, St Augustine) behind us we decided to establish a chapter for the SW Florida area.  We sent letters to all of our clients and those VCOA members located in the SW FL area from a list provided by Gretchen Adams, then Advertising Director for VCOA . 
With the requisite number having signed on to the charter we moved forward with our first event held in Naples at Waterloo station in February, 1996. 
From there numerous events followed in Bonita Springs, Naples, Sarasota, Sebring, St. Petersburg,   Tampa and eventually a joint FL and SW FL VCOA Statewide Meet held in conjunction with a Volvo Sports America National meet celebrating 75 years of Volvo in Miami (in conjunction with the Volvo Ocean Race) in 2002.  These events included car shows, time distance speed rallies, two events at Sebring International Raceway where we drove our cars on course, and automotive related museum tours (REVS in Naples/TBAM in St. Pete). 
Throughout the years we met interesting people, such as Davies Owen who would later move out of Florida and establish the 780 coupe register as well as write articles for Rolling; Paul Sotrop who would later move to Georgia and assist in establishing the Atlanta Chapter. 
We also assisted in establishing the now defunct Florida Chapter of Volvo Sports America with Glenn Kellis and Jeff Jackson, and later become founding members of Central Florida VSA under the leadership of John Martin with whom we now partner to plan and execute events in central and southern Florida.
VCOA not only serves as a venue for members to share their fondness of Volvos, but has proved to be a family affair with friendships that have lasted over two decades.
About Clive Alive
The webmaster is collecting stories, history, information, links to useful sites, and photos to add to the site.  If you have anything you would like to share please email it to
FLVCOA@gmail.com